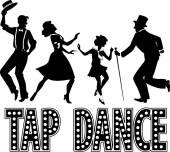 Would you Like to Dance? 
Ready to try something new?  Looking for a fun way to get exercise?  Why not try our newest adult option here at the rec?   Our adult tap class is a perfect way to do both!
This class is an introductory class aimed to introduce participants to tap dancing while building strength and flexibility.
Classes:  Wednesdays 9/12 through 11/14 @  6-7 p.m. 
Cost:  $89